Wednesday, 19 February 2014
Boomtick is extremely excited to announce Ambar will re-open at 104 Murray Street on Friday 21 February! And the graphics aren't all that's new...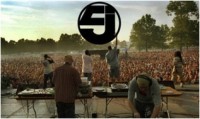 Chali 2na, Akil, Zaakir, Mark 7even, Cut Chemist, and DJ Nu-Mark, aka JURASSIC 5, are coming back to Australia for the first time since 2007.
Tuesday, 24 December 2013
YO! THINGS YOU GOTTA KNOW:
Wednesday, 18 December 2013
Perth's Best Event - Always at Belvoir. Always affordable. Always keepin' it 100.

YOUR CREW. YOUR TUNES. YOUR DAY.
After a roller-coaster year, we are super excited to advise the property development which saw all businesses at 104 Murray Street being evicted is no longer happening.
The long term future of Ambar at its current location is now secure.
Ambar is Perth's #1 nightclub (Perth Dance Music Awards '03, '04, '05, '06, '07, '08, '09, '10, '11, '12 and '13).
Villa - a one-time supper club renovated and re-opened in 2009 - is arguably the most versatile venue in Perth. Visit Villa site.